U. S. Oyster Shucking Competition, National Oyster Cook-Off (And Lots of Seafood), of Course!
Mark Your Calendars Now – October 19 & 20, 2019
Each year, the Rotary Club of Lexington Park welcomes around 15,000 visitors of all ages to one of the Mid'Atlantic's signature food events, the U.S. Oyster Festival in St. Mary's County. Now in its 53 year of shucking fun, the two-day weekend festival features a variety of local Southern Maryland foods (lots of seafood, of course!), family fun and some good old-fashioned competition in a rural atmosphere where visitors can marvel at the fastest oyster shuckers in America and learn new ways of enjoying Chesapeake's finest at the National Oyster Cook-off.
The Festival's purpose is to promote the bounties of beautiful and historic St. Mary's County, especially its oysters and the culture around them, and to raise funds for the various charities sponsored by the Rotary Club of Lexington Park. Always held at the St. Mary's County Fairgrounds in Leonardtown, on the third weekend in October, this year's dates are Saturday and Sunday, October 19 and 20. Gates are open from 10 a.m. – 6 p.m. on Saturday and from 11 a.m. – 6 p.m. Sunday. Admission is $10 for adults; Free for children 12 and under. What's better, all parking is free.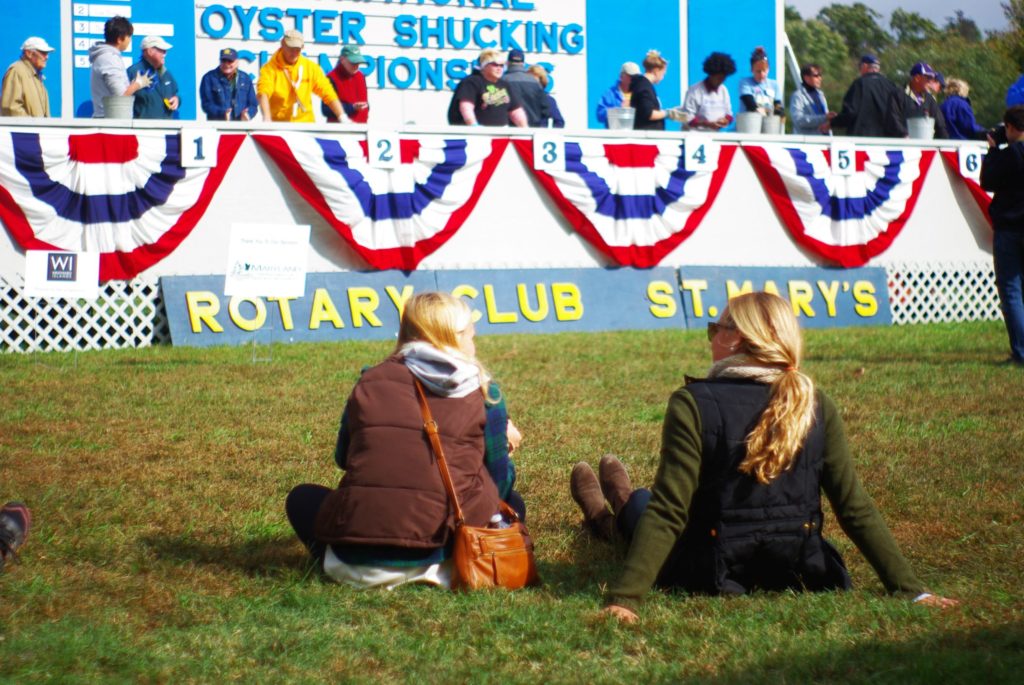 The U.S. Oyster Shucking Competition and the National Oyster Cook-Off are key attractions of this traditional festival, complete with something for everyone, including a full food court featuring a sports bar, arts and crafts area, historical and cultural displays, commercial and home-business displays and vendors, live music and entertainment on two stages.
The Shucking Competition is held both days, with champions from all over the country competing for cash prizes which go to the six finalists in the men's and women's divisions. During the final competition, the woman finalist battles the male finalist for the grand prize: cash, the U.S. Oyster Shucking Champion crown, and an all-expenses paid trip to Galway, Ireland, where they will represent the United States in the International Oyster Opening Contest.
The National Oyster Cook-Off is held on Saturday and features finalists from across the country that compete for prizes in three fresh oyster cooking categories: main dish, hors d'oeuvres, and soups and stews. The top winners in each category are then judged for the best overall recipe and the winner receives a cash prize and a silver platter. The winner is eligible to participate in the World Food Championship the following year.
For additional information about this not-to-be missed event, visit USOysterFest.com or on Facebook at Facebook.com/NationalOysterFest.