The old saying that you can "only eat oysters in months with the letter R" isn't the rule anymore, and the oyster aquaculture farmers in southern Maryland want to make sure everyone knows it.
Fresh, delicious oysters have been carefully placed on the river bottom and nurtured to market size by oyster aquaculture farmers. They are available and safe to eat year-round, thanks to the 'triploid' oyster. It's an oyster bred to grow fast and be more disease resistant than wild oysters; and with only three sets of chromosomes, it is sterile, which means it can be eaten year-round since it's not tied to a spawning cycle.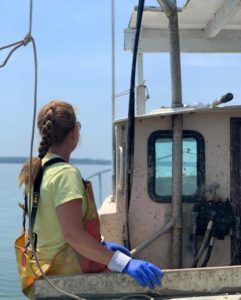 Those restaurants, chefs and oyster connoisseurs who have caught on to the oyster aquaculture movement are big fans however not everyone in the general public is aware of the possibilities that lie within the waters.
Enter the Southern Maryland Agricultural Development Commission, a division of the Tri-County Council, which recently adopted the management of the Southern Maryland Oyster Trail website, at the invitation of the project originators Morgan State University, Patuxent Environmental and Aquatic Research Laboratory and partners St. Mary's and Calvert County Economic Development and Tourism departments.
The Southern Maryland Oyster Trail was first conceived by environmental non-profit True Oyster Restoration Initiative Inc., as a tourism marketing catalyst to increase public appreciation for oyster farming, where and how oysters are grown and harvested, as well as the economic, cultural, gastronomic and ecological assets the oyster industry contributes to the region. The Oyster Trail website, MarylandOysterTrail.com, currently hosts a self-guided destination tour of oyster farms and other oyster-related sites and attractions primarily located in Calvert and St. Mary's counties.
"SMADC was awarded a Rural Maryland Council grant to build on the good work already started by PEARL and we wanted to expand the website content to include oyster producers — both farmed and wild harvest — region-wide," said Susan McQuilkin, marketing specialist at SMADC and the project head. "We are excited to take on this important marketing project to support and promote the entire southern Maryland oyster industry."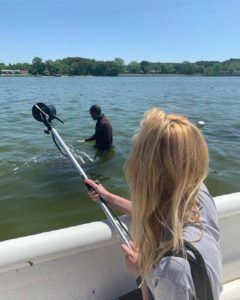 SMADC is currently updating the existing website and reformatting the content in line with its other established consumer guides and marketing programs. The web-hosted southern Maryland 'Oyster Guide' will showcase producer profiles as well as provide information on where to buy southern Maryland raised and harvested oysters. Also featured will be regional restaurants and stores that offer local oysters, experiential tours, museums and other sites where the general public can explore and learn about the oyster's unique cultural and maritime heritage.
"We have been collecting information from southern Maryland's oyster producers to update the website listings," McQuilkin said. "We've partnered with renowned photographer Edwin Remsberg and his team to capture the essence of the oyster aquaculture farmers and harvesters as they go about their day. We'll be featuring these stunning photos on the website, and we're excited to see how it comes together.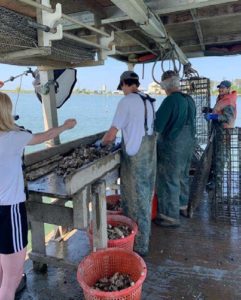 Karyn Owens, SMADC's agricultural marketing program specialist, has been working hard with the photography team to connect with the oystermen and oysterwomen of this centuries-old industry. "We hopped on boats and barges, squeezed into tight spaces, and drove down windy backroads to capture these producers and watermen," Owens said. "It was an incredible experience and will give consumers a unique perspective into the life of those working on the water."
SMADC has also reached out to other southern Maryland oyster-related sites, events, festivals, support organizations and associations to gather information about what they provide to enhance the guide resources and visitor experience.
The new and improved Southern Maryland Oyster Guide website, and associated promotional track card, will be released to the public by the end of June 2019.
The Southern Maryland Oyster Guide is made possible in part by a Rural Maryland Prosperity Investment Fund Grant awarded to SMADC, a division of the Tri-County Council for Southern Maryland.
Written by: Shelby Watson-Hampton, Maryland Correspondent – Lancaster Farming
May 10, 2019